Rugs on walls can be fabulous! I came across an article the other day that reminded me of my own history embracing this attention-grabbing design feature.
As I prepared for college and excitedly ran about gathering cool things to outfit my dorm room, I found this spectacular piece of felted embroidery. It was so spectacular and I so LOVED the colors that it became the focal point of my side of the room. Nothing says soften and warm-it-up than textiles on painted cinder block! Can I find a photo of that wonderful space from decades past? Not yet, but I pulled down the "rug" from its stashed hiding place way up on a closet shelf and have at least this to share.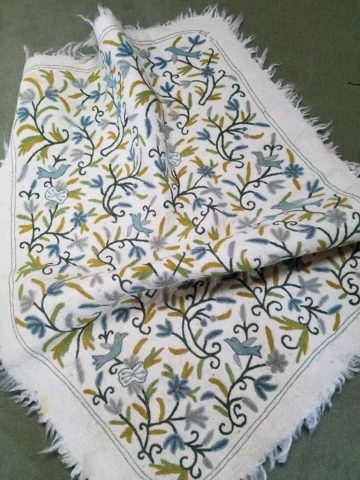 It was a hippy dippy time for style and design. Even those of us a bit younger and not really hippies in the true sense of the free-love and wild abandoned lifestyle, we surely wanted to participate on the periphery with our fashion and interior design. Remember? Indian bedspreads for curtains and clothes, Mexican wedding shirts, beaded room dividers…all that and more. Pier One "shopped the world so we didn't have to!!"
As far as my world of design and what textile wall-hangings had to do with interiors, it was more about quilts than rugs. The east coast was riddled with generations of seamstresses who perfected and perpetuated the art of patchwork. Once a necessity of frugal re-purposing, an art-form was born and evolved into magnificently detailed free-hand-stitched, award-winning, collectible masterpieces. I remember a textile exhibit at the DAR in Washington, D.C. that had incredible examples of fine fragile work carefully preserved and presented to honor this amazing artistic expression and its place in history. http://eyeonelegance.dar.org/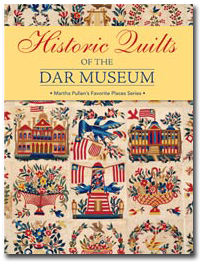 As is true in our world of fast-paced technology, ultimately more expeditious and modern machinery aided the artist in guiding the needles and now computer-generated digital methods of quilting and patchwork stitch at amazing rates of speed and detail.
Although weavers exist in all corners of the world, it was not a traditional art-form in our area. We would see exotic examples in homes of well-traveled adventurers. I came across this article from apartment therapy of some fun examples of rugs as wall-hangings and it sparked my memory of these thoughts on the subject.
http://www.apartmenttherapy.com/why-stylists-use-rugs-as-wall-hangings-and-you-should-too-212602
Fast forward in my history to my arrival in New Mexico – the sunny southwest where Native American weavers reign. I was instantly exposed to wonderful woven art pieces from exotic places like the soft earthen shades of the intricate Two Grey Hills and bright bold graphics of Chimayo. Everyone had examples of master weavers (and some not-so-master but fascinatingly beautiful and interestingly textural all the same), proudly mounted on authentic adobe and towering sheetrock walls of new construction. This sensational example is a powerfully beautiful focal point in the home of great collector clients.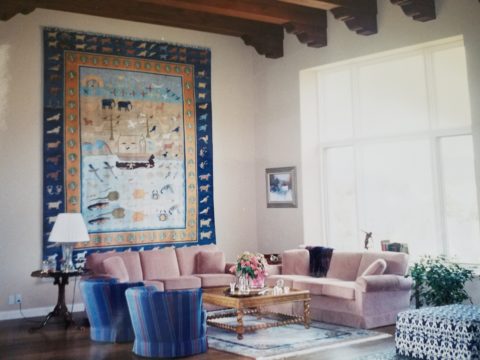 So the take-away from this week's musings are if you have not tried a rug on your wall – get out there and find a cool piece and get it up there!!! You will be surprised at the effective texture and interest it adds to your eclectic interior!!!