DIY is so in vogue. Where it used to be chic to hire someone to do everything in your world, now practicality rules! The savings and fun of doing things yourself is huge. There are so many inspirations on-line. Ideas overflow-ith and the possibilities are endless.
Where do you get YOUR inspiration? It's all around us. I had been contemplating a shower/wedding gift. I always prefer to find something unique rather than picking from a registry at Nordstrom's or William Sonoma…but this one was a challenge.
Recently, my inspiration came from taking a morning walk through the desert.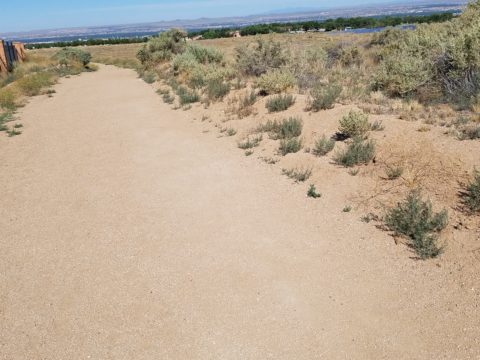 The decorative graphic on the invitation was a floral arrangement of soft pastels and antlers. Yes, antlers. This bride-to-be is a hunter. A long, lanky, beautiful, feminine, crack shot! I've known her since she was a toddler. I had been picturing that graphic in my mind in an effort to divine some special gift that related to that theme…something uniquely memorable and lasting.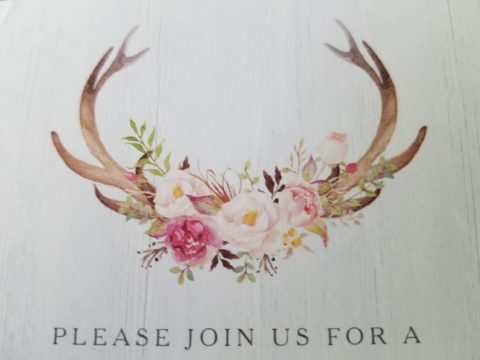 As I walked through the rough desert grasses and around piles of dead tumbleweeds I regarded them with a new-found appreciation. They had such an interesting structural framework that I realized that they clearly resembled antlers.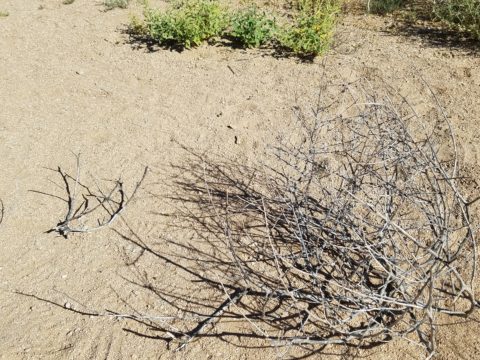 They became the springboard for a floral arrangement that would replicate the theme of the invitation and, with that, I began selecting them and carefully carrying their rotund prickly selves back to the car.
Next step – what else will make this a successful rendition of the theme I was trying to emulate? Off to the craft stores! I selected delicate, creamy-white wooden roses, soft pink mini silk roses and some fill from both Michael's and Hobby Lobby. The PERFECT ceramic vessel presented itself in an soft, oval shape glazed in a powder blue, but with edges and character that offered attractive, desirable, intentional imperfection.
As I have mentioned in past stories, a successful designer has a good team. Building a team to realize your dreams is the key to that success and I called on my very special and exquisitely talented floral designer to assemble my gatherings into the image of my intent. Melba has made my dreams come true for years. She gets into my head and interprets my words and elements to create a finished product that has hit the nail on the head over and over again.
I pulled out the many materials that I had purchased. She evaluated each, talked to me about my concept, and studied the combinations that were laid out on the table.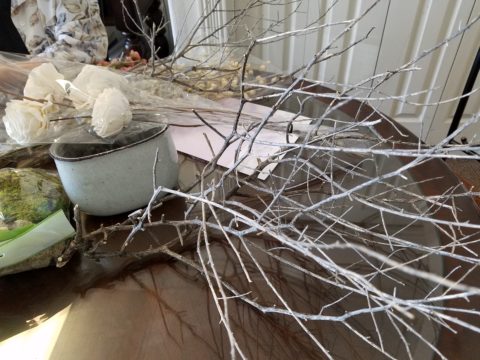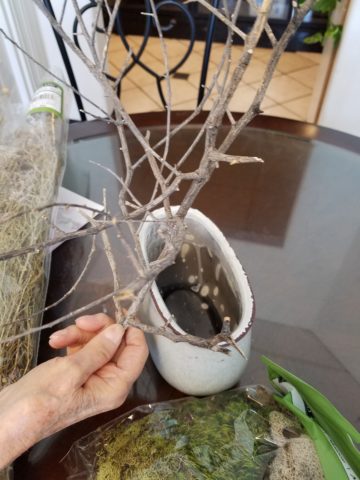 This piece exceeded my expectations. The fine branches of the tumbleweeds were the delicate punctuation amidst the flowers.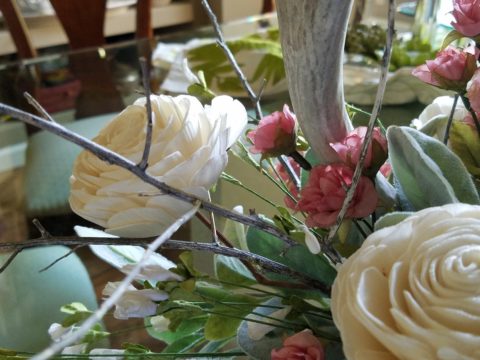 When she actually ordered real, bleached deer antlers that became the statuary of the piece, I was thrilled! Not only was the finished arrangement perfection, I didn't think it was realistic to expect to get real antlers and incorporate them into this design in such short notice. She had less than 2 weeks! It was spectacular.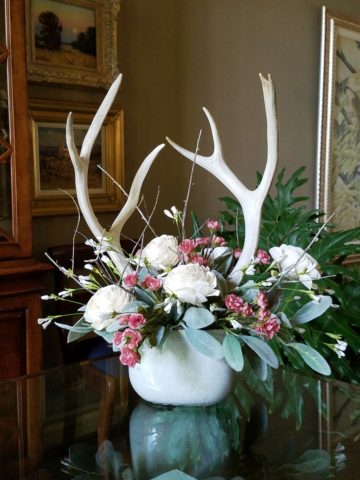 DIY inspiration is all around – even in dead, dried tumbleweeds. Creativity begins with a concept and progresses with the fun of making it uniquely yours. Team DIY!