The fun and adventure of creating interior spaces has always been a passion for Patti Harrell Hoech. Prior to pursuing a formal education resulting in a B.A. from Mount Vernon College in 1977 majoring in Visual Arts and a FIDER Accredited Interior Design degree, she knew that improving the function and enhancing the appearance and comfort of interior spaces was her calling.
Growing up in Metropolitan Washington D.C. with exposure to the traditional and historical decorative arts that embody the area's architecture and interiors gave Harrell Hoech a well grounded base for the study of her field. Her understanding and appreciation for the evolution of Interior Design through its many periods and more recent modern and contemporary movements are reflected in the smart contributions Harrell Hoech brings to each project.
Whether commercial or residential, context, color, texture and scale are massaged in each project to present a well balanced finished product. Extracting the desires of her clients and distilling their concepts paired with her ideas is a team effort. Harrell Hoech works with other design consultants, professional architects and developers to balance design concepts with a responsible and practical sensitivity to the individual priorities for each project. This aids in the planning and selection process to ensure that her projects stay within budget.
From an hour's color consultation to an afternoon of rearranging a space to a master plan from scratch, Harrell Hoech's creativity and inventive solutions are sure to solve quandaries, diminish dilemmas and make the process a lot more fun!
PATRICIAN DESIGN'S on-site source library provides an extensive tangible collection of fabric samples that you can touch and experience first hand. Many lines including ARC COM. Architex, Arte Romo, Anzea, B. Berger, Beacon Hill, Corragio, Design Tex, Duralee, Donghia, Fabricut, Kravet, Maharam, Robert Allen, Schumacher, Scalamandre, are readily available for research and design. Memos and check-out samples can be ordered to try at home or office.
Numerous furniture lines in both commercial and residential collections are cataloged in easy to read binders. PATRICIAN DESIGN also has exclusive and easy-to-navigate internet portfolios available.
PATRICIAN DESIGN
Patricia I. Harrell Hoech, Owner
Commercial and Residential Interior Designer
Education:
Bachelor of Arts in Visual Arts, Interior Design Major – Mount Vernon College, Washington D.C. 1977
Licensing:
New Mexico State Interior Design License 137
Professional Experience:
1974-1978 Washington D.C. MGC Ltd., Trade showroom and Kreidler Design Studio
1980-1984 Invironments, Inc., Albuquerque, New Mexico
1984-present PATRICIAN DESIGN, Albuquerque, New Mexico
Affiliations:
New Mexico Symphony Guild, 2000 Symphony Ball – Committee Member Art Auction and Underwriting
Carrie Tingley Raspberry Tour 2000 House Captain
Southwest Arts Festival Board Member 1999-2001
American Society of Interior Designers ASID 1978-present
Albuquerque Chamber of Commerce 1985-1998
Albuquerque Convention and Visitors Bureau 1986-present
National Museum of the American Indian, Charter Member 2004-present
DAR Daughters of the American Revolution 2007-present
The Albuquerque Museum Foundation Associates, Board Member 1995-1999
National Museum for Women in the Arts, Charter Member 1984-present
Albuquerque Art Business Association (AABA), Board Member 1994-1998,
Board President 1997-1998
Experience Summary:
A broad range of professional experience has resulted in a comprehensive collection of work from all sectors of commercial as well as residential spaces. The referenced projects illustrate examples of institutional, healthcare, corporate, hospitality, financial, and residential interiors for which Ms. Harrell Hoech has been recognized.
Her aesthetically pleasing, creative, and functional design contributions to the built environment have complimented the architectural intent and context in which they occur. Increasingly she is recognized for her outstanding design of exterior spaces…because outside "rooms' are integral spaces that are becoming more and more an extension of the way we live and work.
These exterior designs are further examples of the creative solutions to "living designs" that Harrell Hoech so functionally and aesthetically conceptualizes and realizes in her work. Owners, contractors, the public and her peers continue to appreciate her achievements to improve the significant spaces in which we work, receive treatment, relax, and reside.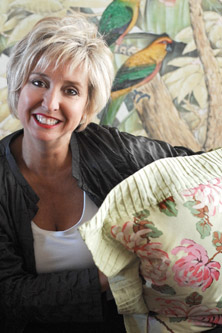 Patricia I. Harrell Hoech, Owner
Commercial and Residential Interior Designer