Boutique / Gallery
Enjoy browsing our ever changing Retail Boutique to get a taste of our fabulous fine art gallery, unique gifts and home decor, or step into our Interior Design Studio and experience Harrell Hoech's portfolio of well received and award winning designs.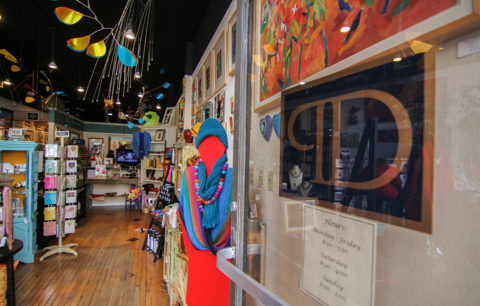 Located in a vintage storefront, PATRICIAN DESIGN's boutique gallery is an eclectic emporium of fine art, decorative accessories and designs for living! Peek in off historic Gold Avenue in downtown Albuquerque and discover unique artwork and gifts from spectacular oil paintings and pottery to original handcrafted jewelry, wearable art and textiles all from talented New Mexican artists.
In addition to original art and gifts, PATRICIAN DESIGN offers exciting national brands and award-winning products bringing great design to life's daily pleasures and activities. Be sure to stroll the handsome greeting card corridor where you will find an exceptional collection of cards and small gifts.
PATRICIAN DESIGN will ship anywhere and make every attempt to assist you in finding just the right gift including our popular courtesy gift wrap in fantastic cellophane explosions!
History of the Shop
A little history about the PATRICIAN DESIGN Gold Avenue studio and boutique.
This story is not the conventional well planned business model. In 1984, while sub-leasing the back of an architectural firm's space in downtown Albuquerque, Patti Harrell Hoech was running out of room for her expanding source library of fabric samples, catalogs and workspace. Loving being downtown, she took note that the storefront across the street on Gold Avenue was for lease. The large bold FOR LEASE sign was invisible until the day when the need reached a climax and instantly that neighboring space was all of a sudden a possible alternative – next move.
Not only was it a possible alternative, but after a brief conversation with the leasing agent, it became a very viable alternative. Harrell-Hoech negotiated the tenant improvements to transform the remarkably dated and neglected beauty salon. All but gutting the space, additional changes including adding new HVAC and exposed ceiling and mechanical systems were not only cost-effective but, in 1984, on the cusp of a design trend that would expose many such elements in urban lofts, retail spaces and other commercial concerns in the coming years.
Respecting the vintage of the building, early 20th century, she salvaged the original hardwood floors and sparingly partitioned the space. She set-up shop. To this day the interior layout has not changed which is a testimonial to the far-sighted design sense that she executed at the time. This original design has not changed but what happened next and in years to follow was a momentum that was not planned in the conventional "business plan" sense but by a momentum of osmosis that took on a life of its own. Here, in the beginning, was her new storefront presenting the hand-painted in metallic leaf name PATRICIAN DESIGN, with a raised empty window ledge (the platform for a beautiful croton plant presented as a shop-opening gift) and a generous front space, reception desk and bare walls. One of the very first recipients of Albuquerque's prestigious Bravo Awards, Harrell Hoech had been and continued to be a strong advocate of local artists – incorporating their work whenever applicable into her interior designs. With this attractive new storefront, artists approached her to display their work. First was a woodworker with an elegant hand-crafted multi-species hardwood writing table. He asked if he could place it in the front window (beside the lonely croton) to make it visible to the public which were not seeing it in the confines of his studio. Next, a local oil painter offered a triptych to exhibit on the oh-so-bare walls!
Next thing Harrell Hoech knew, she was approached by Pamela and Don Michaelis and the newly organized Albuquerque Art Business Association. "We want you to become a member gallery." To which Harrell Hoech responded "I'm not a gallery, I have a design studio." They said in return, "No, you're a gallery and we want you to join." With that and Dartmouth Street's John Cacciatore's encouragement, the storefront and walls gathered art to present and exhibit which opened on the Artscrawl schedule and the process began. A show was hung, an event planed and 3 months later another was scheduled to occur. Plan a new show, take down the existing and install the new…and inevitably someone would come into the gallery and inquire about a piece…"I had seen this lovely landscape…the one with the blue hills and brilliant yellow clouds." To which the gallery responded… "That was our last show… this is what we are currently showing. Perhaps we can inquire about the availability of that piece from the artist." Well, it seemed too far removed and people lost interest and it was very obviously a burden and limitation not to have the continuity in the offering of stock.
Soon thereafter, the elderly optometrists next door moved out and artist took the space. After a few months he gave up on his dream and the space was left vacant and a spark ignited for Harrell Hoech. A new stage of evolution was at hand…bang a doorway through and capture that space in order to expand the "gallery" and transfer artists' work after a show to insure continuity for visitors – that they might find an artist's work that they had previously seen.
Harrell-Hoech orchestrated fun events to bring people downtown including live sheep on the sidewalk to compliment the weavers from Tierra Wools doing a presentation with their looms, a horse-drawn chuck wagon taking people on rides around the block while a live country-western band played through the evening, Phil and Phyllis, mascots from The State Fair greeted guests while stilt-walkers and juggles performed along the street, the list goes on…
After a couple of years and multiple inquiries from local patrons, Harrell Hoech realized that as wonderful and engaging as a gallery of artists was, what the local business people really needed was a place to find office gifts, cards and items that were more functional and spontaneous for the fun and practicality of shopping on their lunch hour and weekends.
With that, Harrell Hoech began stocking selective greeting cards and unique collection of merchandise without ever wavering from her belief in presenting and supporting local artists. The approach to a many faceted more retail boutique was met with passionate loyalty. The result of this metamorphosis is what you will now find on this intimate historic urban block of Gold Avenue in downtown, Albuquerque. An exceptional boutique gallery and emporium of great gifts and home accessories engaging the visitor in a sensory collage of art and design where one enjoys the mood created by soft background jazz, fragrant candles and bath and body products , original art, jewelry and myriad decorative accessories. Regulars still make up a major percentage of our clientele and exclaim about the interesting and ever expanding offerings.
Her innate vision for and love of downtown Albuquerque has fueled her desire to passionately support the renovation and perception of downtown. Harrell Hoech is a strong proponent of the branding and marketing of her neighborhood – the GOLD AVENUE SHOPPING DISTRICT. And, as Frommer's discovered and wrote about in their guidebook for Albuquerque "all that glitters is on Gold" where you can stroll, shop, pamper, dine and live!