Not as the title suggests…tequila shots and all – but another kind of intoxication…an intoxication from unexpected beauty, sensory overload, inspiration as seen in the following photographs.
Those of you bundled up against the elements this time of year…freezing your booties off in the icy winter climes. Enjoy this escape into your unbridled imagination of design and lifestyle gone wild!
Thought a beachfront condo was out of reach? Think again. With all the DIY out there on the internet today, anything is possible. As evidenced by the inspiring framework of architecture that I have encountered just this week alone, consider the possibilities and have a little fun!!!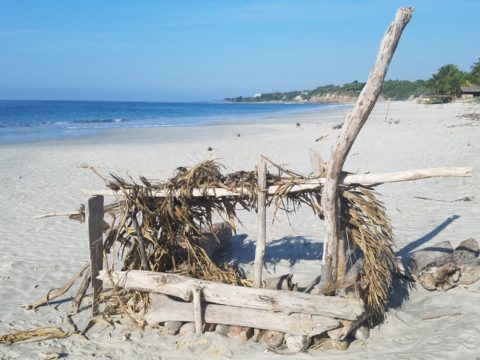 Very simple things trigger design concepts. Beyond the fascination I have had with these beach structures, this particular photo was bathed in late afternoon light. The glow of the orange towels was emitting a warmth that was so tropical, had it not been on a tropical beach, finding the same boldly colored and textured structure in a snow storm would have elicited a startling, contrasting feeling of the same tangible warmth.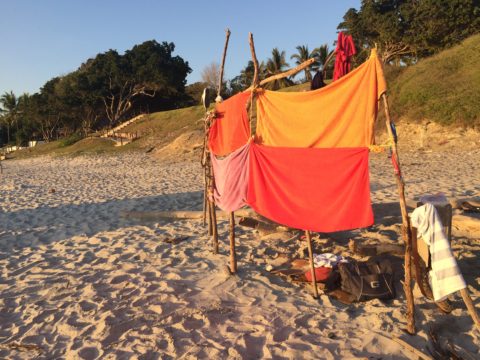 This make-shift west-facing beachfront was so beautiful, in its simplicity, that it spurred ideas of bold fresh color, basic found-material furniture possibilities, fabric design and organic architectural solutions for patios both commercial and residential.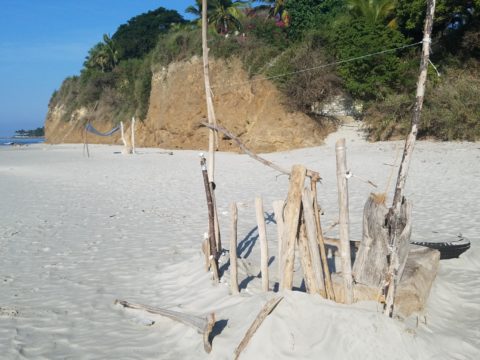 Imagine raw elements  incorporated  with concealed structural support to convey the feeling of spontaneous simplicity.
Then there's that general calling that speaks to "the natural integrity of the materials." You realize it is a grounding.  It is a starting point of reference to all the embellishments, layers, machinations and manipulations that are possible.
Wood is wood until it is stained, painted,  appliquéd…when does it lose its "natural integrity?"  Even raw, man-made cinder block – CMU – concrete masonry units have their own natural character. Then stained in the aggregate or applied color, thickly coated…it alters it's state – losing its material's natural integrity.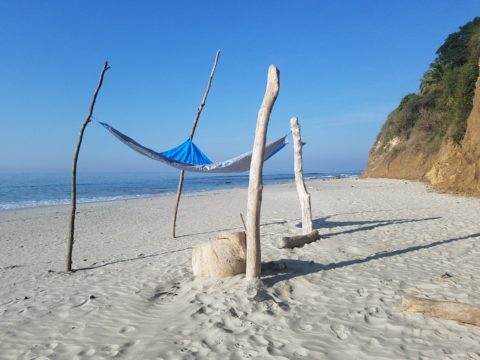 What ignites design thrills? The fireworks of ideas that burst onto the scene illuminating so much that was previously obscured. It doesn't have to be a remote and seemingly inaccessible tropical beach…it's everywhere. Look around. See texture and color, shape and frame. Urban, suburban and rural settings in any climate all offer inspiration that can be isolated and appreciated. Design inspiration can be intoxicating.
Why is designing so exciting? Why is it often such a rush? You never know when an idea will appear or from where.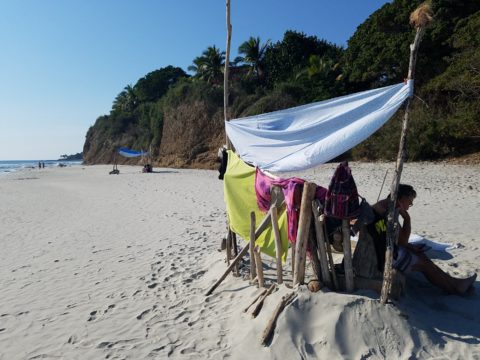 The world around you is a constant stimulation of ideas, inspirations and possibilities. You are thirsty for  whatever is out there…whatever is waiting to be discovered, implemented… quench those longings.  It is all about the freedom to allow ideas to be spawned from anything around you or in intertwined with your own imagination.
What fun to have come upon these simple structures on a glorious and sparsely populated beach. What fanciful design ideas and story-lines were prompted by the imaginary occupants, their creativity, resourcefulness and problem-solving simplicity.  Lest you think they house the homeless adventurers, they are actually sun-shades for creative surfers and affluent sun-bathers seeking a primitive beach experience.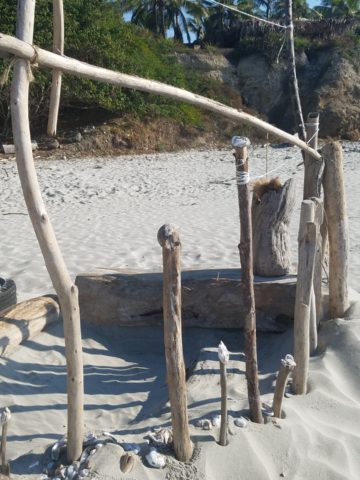 How might these primitive structural solutions play into a future project? Watch for design trends to incorporate more organic materials and nature's inspirations!
I'm ready to explore the possibilities. Are YOU?