Perhaps – when you are an avid collector, limitless treasure-hunter and lover of basic Americana (comprised of the appreciation of indelible graphic design and branding mixed with a healthy dose of green chile cheeseburgers, bodacious bbq and good fun) – it's never enough! We're in Hatch, New Mexico at Sparky's once again!!!! The sensational roadside attraction – Sparky's burger bastion MUST know when too much is not enough!
Nine and a half years ago Teako made a statement and the word has been spreading ever since!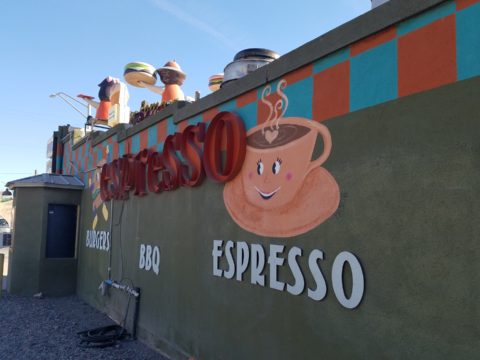 The opening of this fun and funky establishment started out with a few outrageous signs and vintage mascots like the Colonel Saunders on a bench, Ronald McDonald as the un-official greeter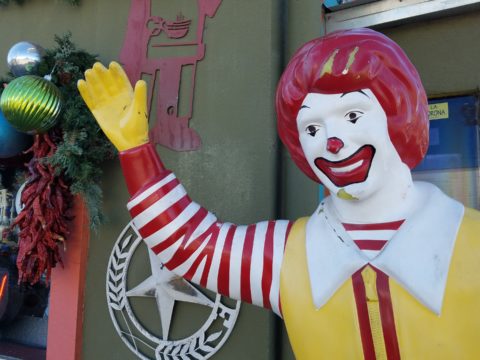 and a dedication to signature green chile cheeseburgers and mouthwatering bbq. Now both sides of the street (and scattered around town) are towering, larger-than-life icons of days gone by and travelers from all over the world stop to experience this unique site.
But inside, the treasures also abound! With each visit we discover new surprises and exciting additions. Because its Christmas, we were enticed by the "Say Queso" photo scene. We donned funky antlers and cozied up to the decked-out tree, with a backdrop of sparkle and ornament, beneath dangling snowflakes,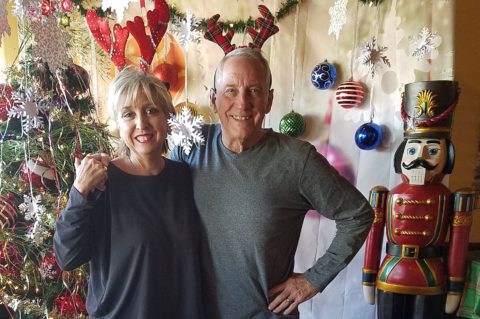 flanked by a towering toy soldier and Jolly Old Saint Nick himself!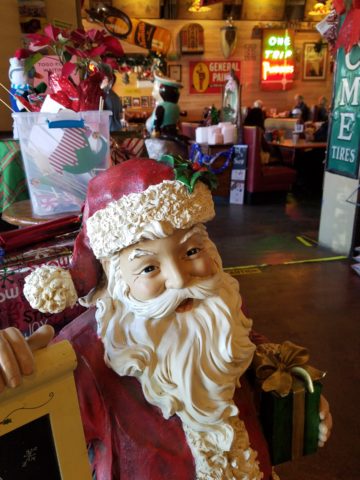 The stockings were hung in clustered abundance over the entryway to the dining room. No such thing as too many or too much here!!!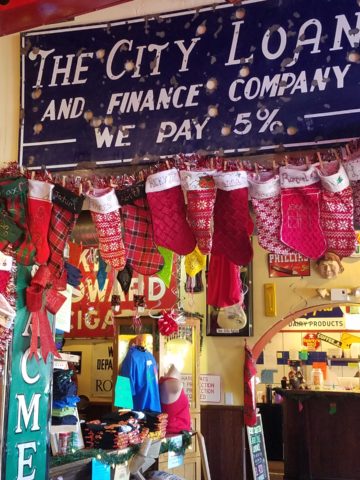 The walls are plastered with iconic paraphernalia.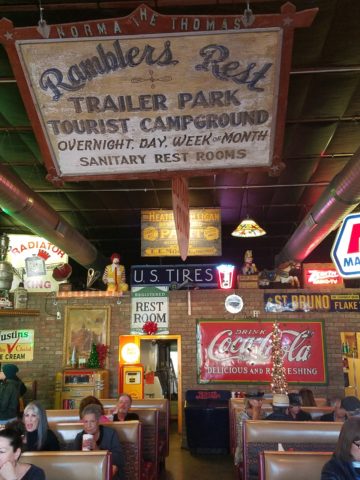 Patina etched tin painted and pitted, with pocks of rust and tarnish – weathered through many storms adding further character to the familiar and not-so familiar pieces, until finding safe haven here in this magical collection.
Camp art un-selfconsciously curated on every square inch of interior space.  A nostalgic presentation and preservation of graphic design and branding.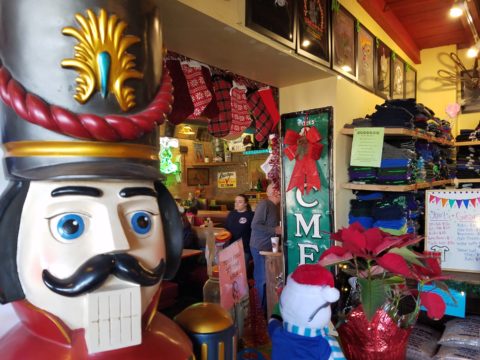 If you're a "picker," a graphic designer, a nostalgia buff, burger and bbq connoisseur or just a kid looking for a memorable bite on the side of the road,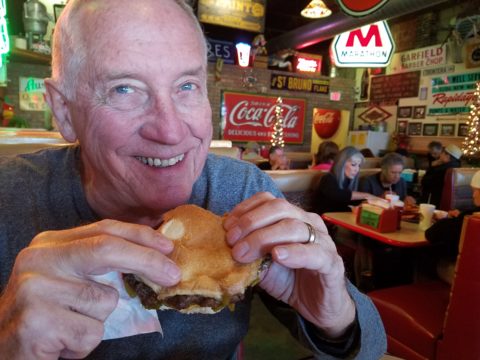 Sparky's unintentional museum, of the colorfully entertaining and eclectic, will not disappoint! It is a must-see landmark in this our Land of Enchantment.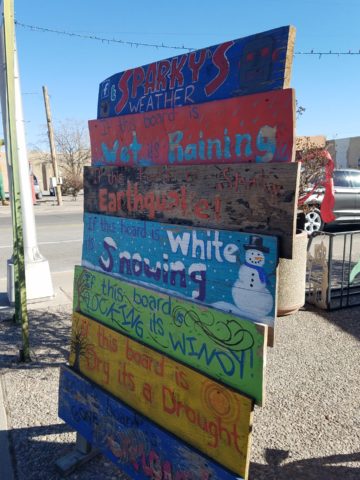 Be enchanted at Sparky's! Thanks for the memories!!!!! Keep 'em coming!!!