We've all heard the expression "A picture speaks a thousand words." And today, as I set forth to use it, I investigated its origin…seems the original quote might have been "A picture is worth ten thousand words" as stated by Fred R. Barnard in the 1920s. Either way, it conveys the same – seeing is believing and seeing is more literal in most people's eyes. Words can describe and attempt to convey an intent or, in my world, a design concept. But to sketch it – well that's the best way to show the intended idea. There were other unsubstantiated references to an old Japanese phrases, but suffice it to say – it is such a truism that it is referenced often.
Here is an illustration of a courtyard that we have proposed. Our custom designed hand crafted iron gate inserted into the existing low wall, water feature, flagstone and plantings are all new proposals. Can you picture it? If I had arm-waived with a verbal description would it have been as helpful? It's a small space, so it would have been easier to convey than other more complicated design concepts, but for the sake of an example, this works. I'm thinking that your answer would be – "Yes, I get it! The illustration sets the stage and really helps me visualize the intended finished product!" It is exciting and more stimulating than a rigid CAD drawing and evokes more emotion in most, if not all, clients.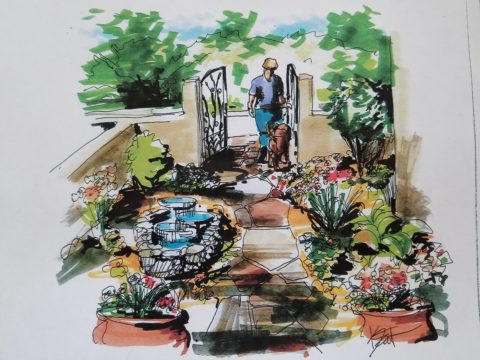 I realize as I write this that it directly reflects the observations in Federico Leon de la Vega's comments about the value and actually critical importance of handwriting as he expressed in his TED TALKS last year.
Therefore, I prefer the artist's rendering – to support and promote the talents thereof and also for the much better rendition of the concept! So as technology advances in the realm of illustration, I intend to continue to support the skills of the artists that so effectively express our designs.
Let's get together and plan your next design project, find solutions and create the images that will springboard the work and ultimately represent your new reality!!!