Everyone loves befores and afters. Last week we featured a project that received a dramatic transformation. The trick is, you have to think thoroughly about taking "befores" before you tear into it!!! Hindsight is so often 20/20 when delving into a remodel.
I dashed over to Phoenix last month to celebrate the Grand Opening of an exciting new clinic that we have recently completed. While there I visited great friends and re-visited a wonderful residential project that has stood the test of time.
Here we have two restrooms in that same project. Rich colors of warm coral, brick and golden tones with natural materials from stone floors to counter-tops and wall treatments. It is a Spanish theme – albeit eclectic with art and decorative accessories, of this well-traveled couple.
What was plain 80s' vanilla receives a new-found richness and warmth, depth and interest. Do not be afraid of dark colors in small rooms – I've said that many times in the past. I'll bet that you have seen spaces exactly like these "before" shots. Clean slates, but so uninteresting it is remarkable to think owners are content to live without personality in their anemic interior spaces. We added powerful personality and panache throughout this residence.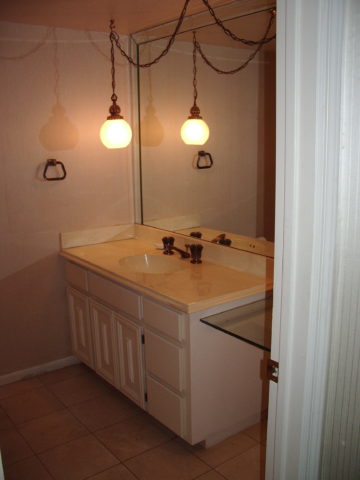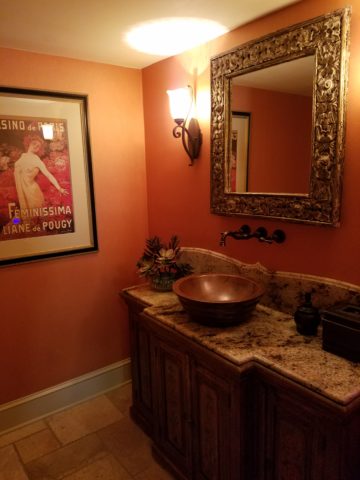 The master bath had dated surfaces and uninteresting configuration. We transformed the area by connecting, with a glass panel, the tub and shower areas. However, we elected to use a shower curtain instead of glass door. I often suggest this alternative. It is softening, less expensive, easy, minimal maintenance – less wiping!!! Watch for another new master bath with a shower curtain and glass combo.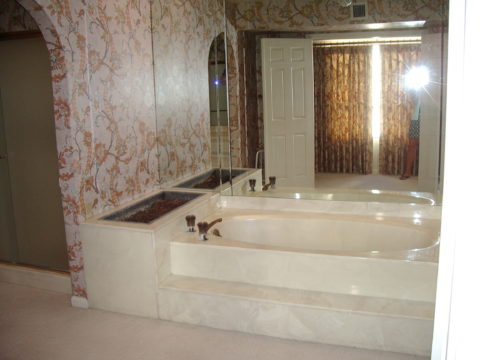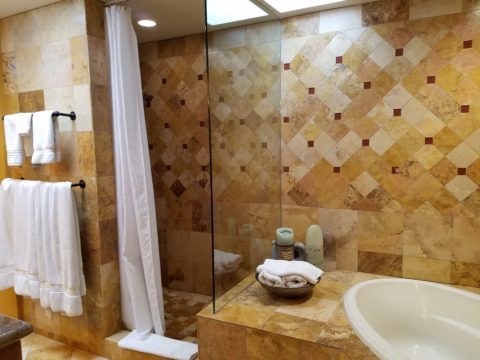 Full wall treatments of stone or ceramic are wonderful, substantive ways to suggest architecture over mere decorative appliqué. The material suggests structural forms. It never should stop on an outside corner, lest it defeat the purpose. It is to be a mass.
So take those "befores" and enjoy the "afters." Don't be afraid of dark colors in small rooms, and use stone and ceramics generously without fear.
P.S. Last week and this today are of a fabulously enjoyable and successful remodel transformation done 12 years ago!!! Yes, revisiting a couple of weeks ago,  I took these afters of exactly the interior that we designed that long ago. It has been a virtually timeless project. The owners have enjoyed the spaces so well that they have maintained them without any modification. So we thought that you as readers would get a kick out of the long-term success of these design decisions.