Having art woven through the daily activities of your world is stimulating, satisfying and inspirational. It stimulates the imagination, satisfies with the knowledge that is was created by an individual artist and inspires to spur the creativity we each have to express – whether we know it or not. It encourages appreciation.
Functional art is a cornerstone of the work we offer at PATRICIAN DESIGN. As a novel promotion of the various artists who create and produce exciting food-safe serving pieces on display and for sale in our shop and affirmation, of the belief we have that art should set the stage for style in daily life, we began our series – Patti's COOK + PARTY. We like to party and we love art – so we party with art at the  center of the  festivities!!!! Let's get this party started!!!!!
Six months ago, we began our series and followed the seasons as we progressed. By Fourth of July we featured festive party parfaits in expected red, white and blue! Our martini glasses were placed upon colorful cocktail coasters hand dyed and pieced into pretty patchwork squares by fiber artist, Rebecca Speakes!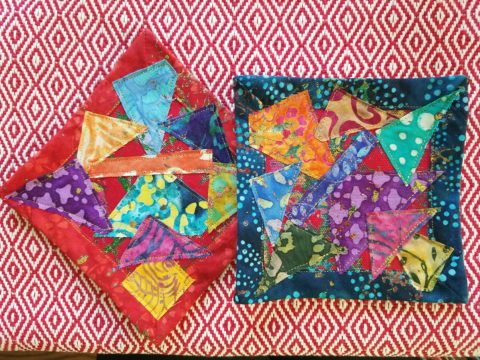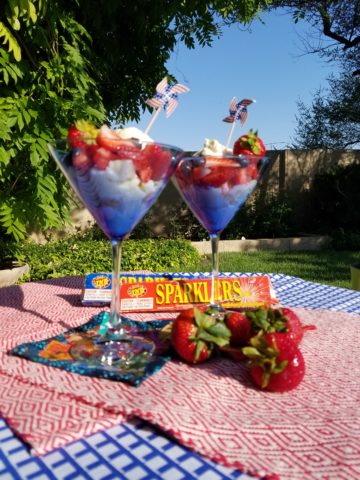 Micheladas were given a twist with plump yellow heirloom tomatoes! Alongside was a fresh guacamole featured in a rippled-edged undulating little piece of pottery by artist Anne Marie Werner Smith.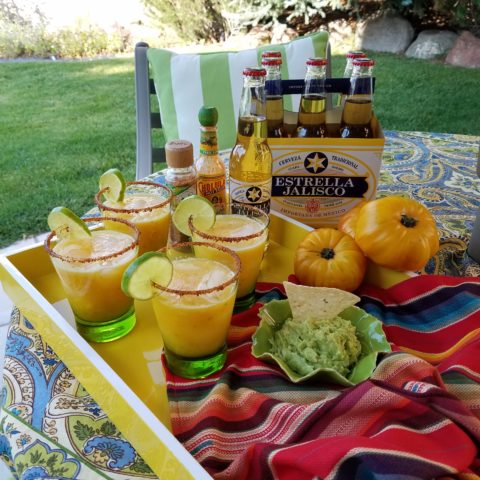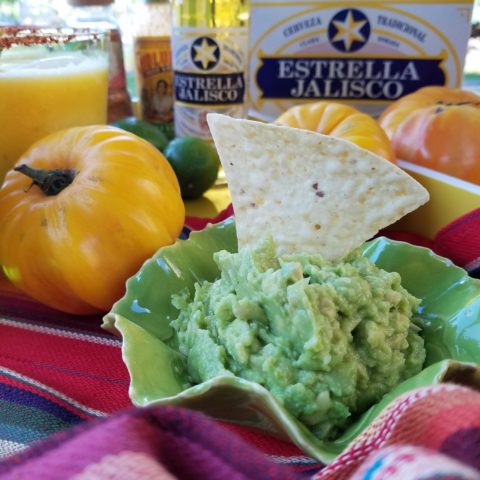 Her collection is wonderful and we continue to feature key pieces in our weekly recipe pairings.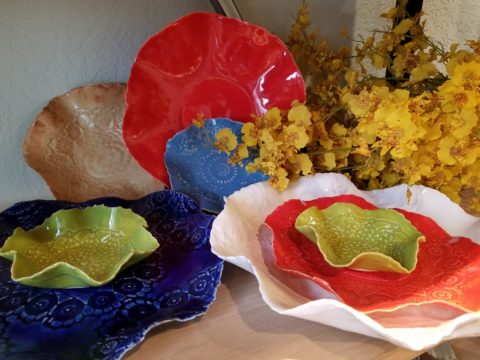 The pairing of recipes, with handmade art pieces on which to present and serve is inspiring. Here is a New York Strip steak bathed in a crazy fresh, from the garden, combination of pesto/chimichurri (yes, we created some crazy combinations of the two) sauce presented on a fanciful leaf platter by artist Robin Chlad!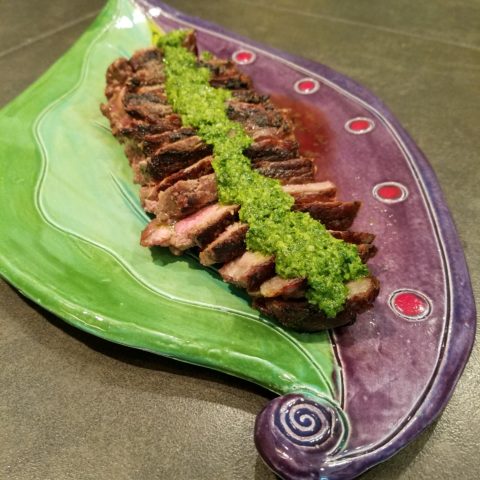 Seeing examples of fun recipe ideas displayed on functional art creations is an unbeatable combination. Just tell Guy Fieri that for his Next Big Project!!! Rooting out artist's studios in every pocket of the country and discovering great work and pairing it with great food – fantastic!
The colorful drawings and painterly style of Mariana Gasteyer's pottery is whimsical and festive! Here a couple of examples and a fabulous featured recipe of a paired pear salad – half roasted and half freshly sliced – the combination was divine and the presentation on the platter was perfection!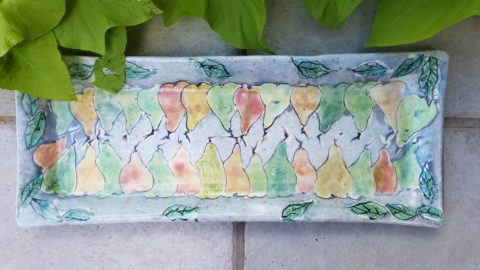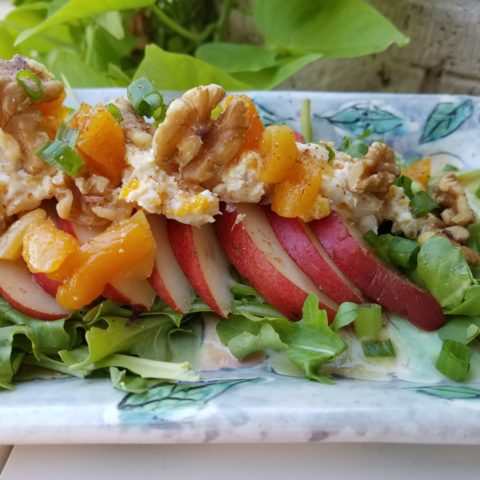 A summer road trip took us too Tucson where we featured a huge lotus platter by artist Penne Roberts. Here we featured a vintage Shrimp Louis Salad.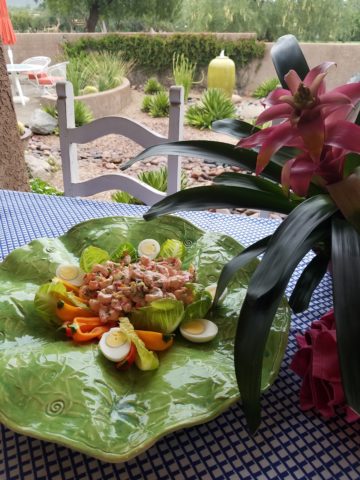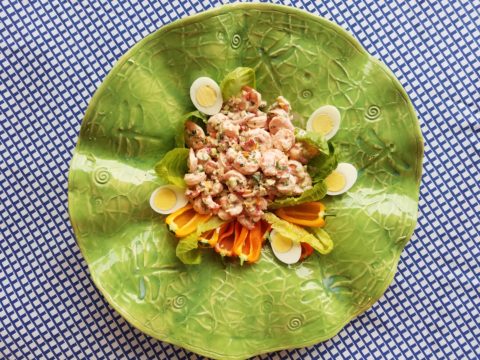 As fall progressed, we hiked Tent Rocks to photo this amazing platform piece by Jenn Dipaolo.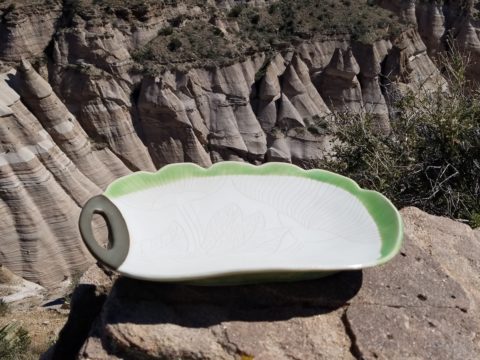 Upon the platform we placed a pair of sweet and savory mini pumpkin pots de creme.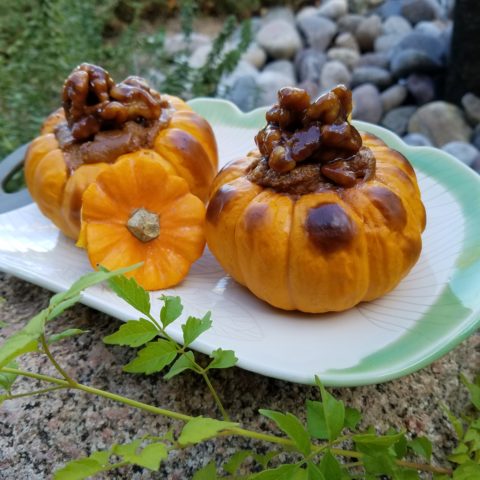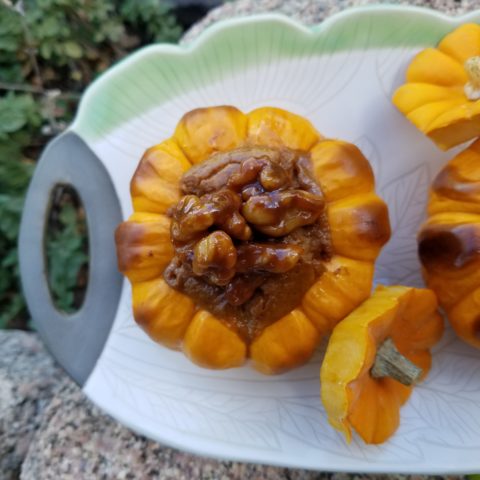 This past week we featured a dazzling, luminous glass sunflower bowl Margaret Hidalgo Vanderheyden.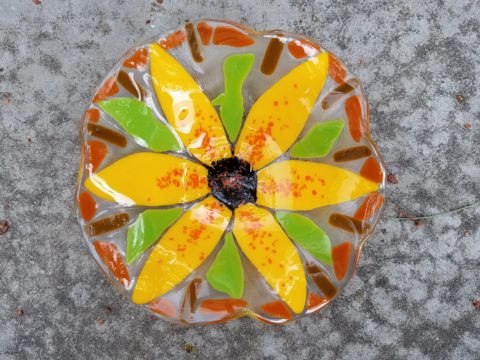 This spectacular fused glass assemblage frames our pecan crusted cheese ball perfectly.  Fall colors with holiday flair, this bowl makes a statement!!!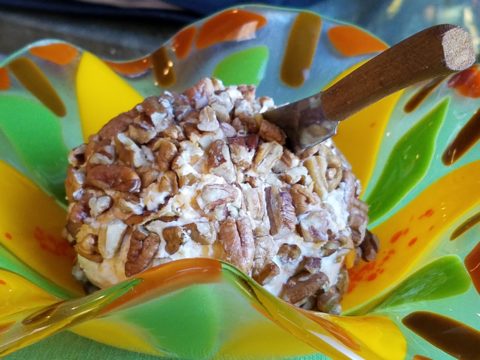 Supporting local artists, showcasing their pieces by pairing with food is the  bomb!
Start family traditions with signature art pieces, build collections and shop  small supporting local artists in your community!!!
If you would like to receive our weekly Patti's COOK + PARTY recipes and pairings with our functional art finds, let us know what you think and sign-up with your email address!!