The grand opening of a project is always fun. Months of planning and construction resulting in a finished scene.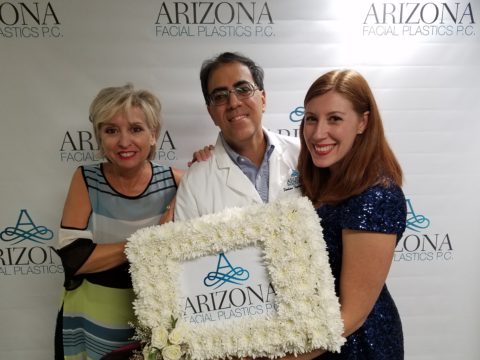 It's not an easy path nor is it always as planned, but this project, conducted mostly long-distance, with only two field visits, is a great success.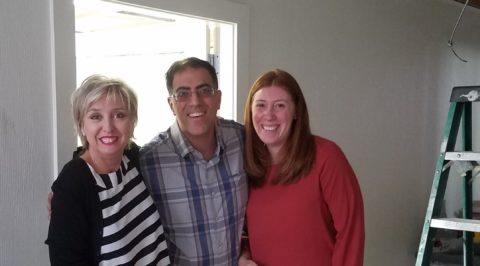 Great clients make great projects. It's a team effort and it helps that everyone is on the same page. The designer is a navigator, lighting the way to get to the end result. It can be a circuitous path. Like all projects, there are decisions and modifications, priorities and compromises.
Arizona Facial Plastics, having created a brand and provided a concept with which they wanted present their practice, sought an interior which instilled confidence, with the refreshing, pampering atmosphere of a spa, but with the aura of a conscientious, progressive medical environment.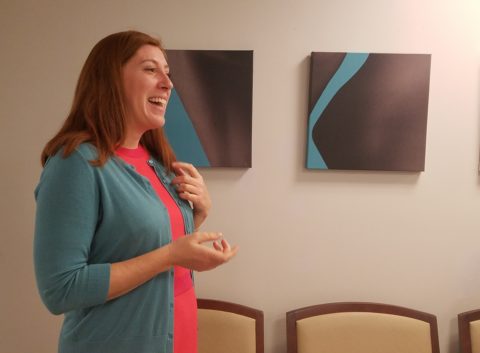 In the fast-paced ever-expanding world of aesthetics, it is important to emphasize the quality and experience of service offered. In this clinic the services range from complex surgical procedures (performed off-site) to all of the cutting edge procedures and treatments desired by today's discriminating clients. World-class products and state-of-the-art equipment and procedures are provided here, in the clinic, with quiet confidence and confidentiality.
To achieve their goals, we first focused on the brand and its style and colors. A crisp, serif-style A underscored with an elegant scroll, warm, soft charcoal compliments the bold cool gradated turquoise set against a fresh white ground.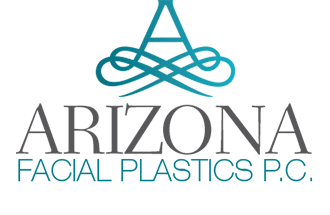 Selecting finish materials began with the flooring and cabinetry. As is true with all interior projects, it is best to begin with the items that have the least options. There are fewer carpets and cabinet finishes than there are paint colors, for example.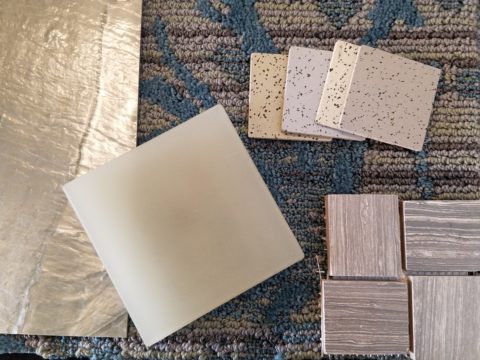 We found the perfect carpet with a broadloom that provided a forgiving pattern, multiple textures and yarn colors. The complex product had an organic pattern of plush cut turquoise pile set in relief from a loop comprised of a grayed lavender and pale green citrine. Having made this selection, we then extracted individual colors of vinyl tile to compliment the carpeting in adjacent exam and procedure rooms. Gradated white porcelain tiles were used at the point of entry set against the contour of the carpeting in the waiting area creating a fluid, curvaceous transition and guiding, directional flow to the interior of the suite.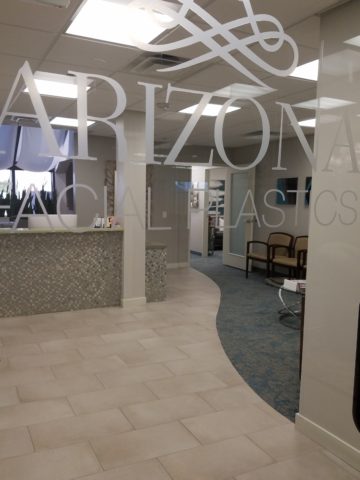 Once the flooring was selected, the cabinet and counter-top materials were next. A translucent yellow-green citrine engineered solid surface material was selected for the transaction counters at the reception desk and medical assistants' work area. Dark charcoal plastic laminate was used for casework and select counters while exam room cabinets had a pencil-sketched floral patterned soft green laminate playing across the counter-tops.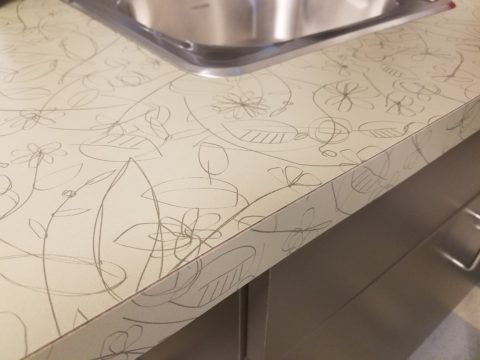 An accent of sparkling glass and stone mosaic tile face the reception counter at the point of arrival.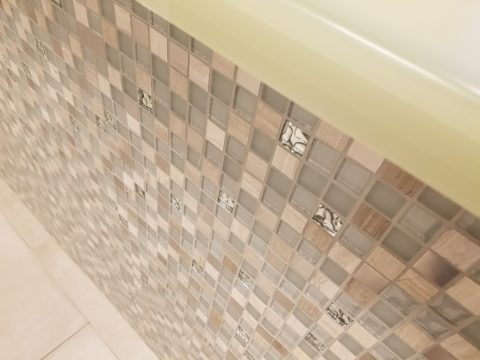 Behind the receptionist, an elevated planter of succulent "sansevieria trifasciata", regarded for it's exceptional oxygen-producing properties, is a refreshing organic backdrop. Above, custom drapes filter light from the sloped ceiling atrium windows.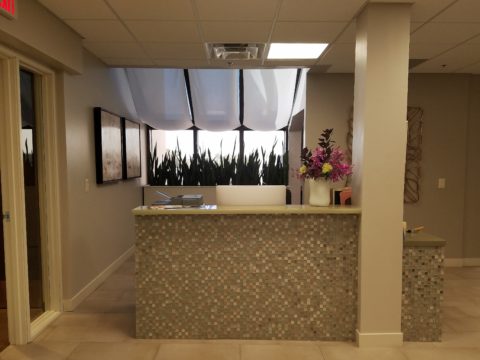 Non-representational expressions of color were selected for the wall art  throughout the space.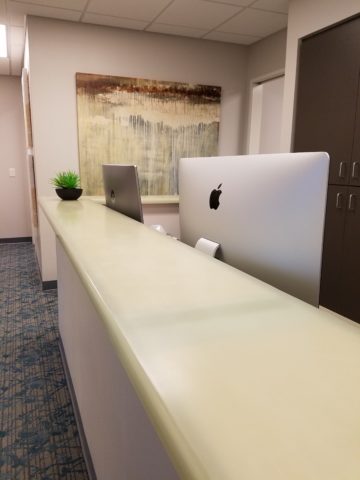 For the waiting room, we commissioned photographer, Katie Barry Councilor, of Smoketree Photography, to create a custom collection of abstracted body forms in grey scale. We then enhanced each image with their brand's cool turquoise color, in the negative spaces, creating a series of artful stretched canvas images flanking their logo.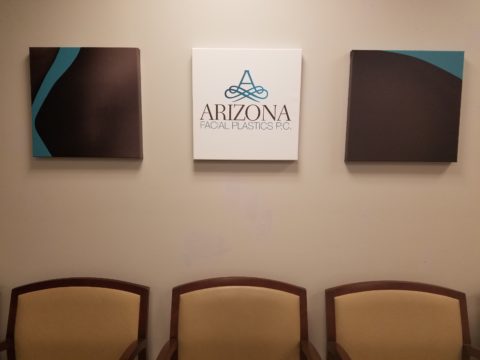 The take-away for clients is a serene, yet reverential  experience which instills confidence and promotes relaxation and rejuvenation. The subtle reiteration of the AZFP brand's turquoise color throughout insures that the clients will be refreshed and reminded of their pleasing experience when they encounter that color even after leaving the clinic.
Hope you enjoy these before and after shots!!