While at the stop light, I found myself behind this gorgeous fire truck and by the time I thought I should take it's photo, it was pulling away and I was making a U-turn! So I quickly grabbed the phone, fumbled for the camera icon, and snapped this shot over the dash through the windshield as it powered up the street.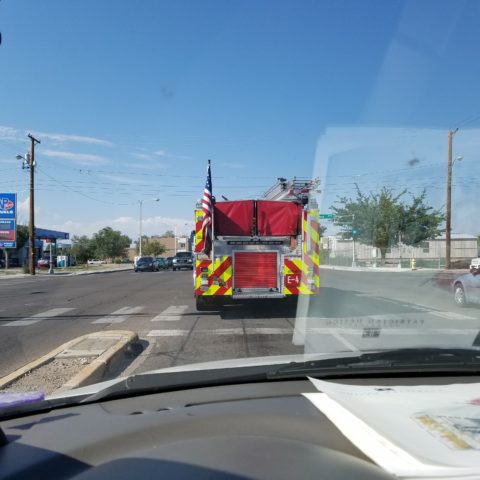 I have zoomed in on this spotlessly, shiny, magnificent machine for the effect of today's story subject. This wonderful, patriotic, service – truck struck me not only because it was colorful and sparkling, but much of the high contrast and bling came from the diamond tread wrapping the handsome body.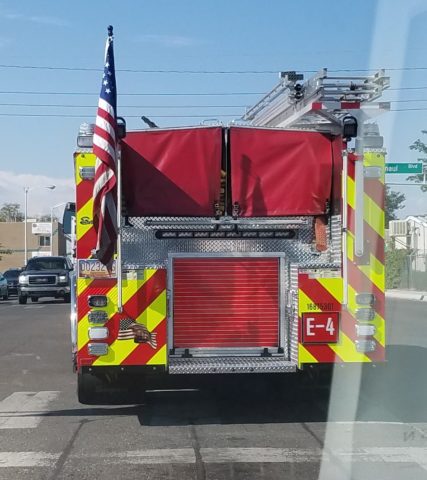 Earlier in the week a client casually mentioned how cool it would be to use some of this material as an interior design element! Little did he know that his simple off-the-cuff comment inspired me to investigate and plan to do just that! I was minutes from presenting to this very client when this photo op occurred. Serendipitous perhaps?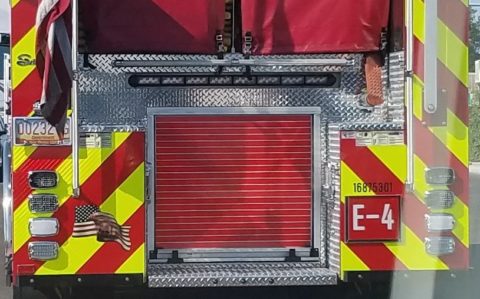 What sparks the imagination? How do things evolve? What fun it is, as a part of the Creative Process, to explore the possibilities of unexpected materials used in new ways. In this case, the material is perfect to promote the theme of the brand – a successfully growing business related to cars and the repair and restoration thereof.
I won't reveal the business just yet – it will be a dramatic unveiling soon-to-come. Suffice it to say, I am enjoying the process, with a great team, of expressing and furthering their well-established brand, in the development of the interior and exterior design.
Back to the diamond tread. You've seen this used on fire trucks, tool boxes, tailgates, flooring, trap doors…and much more. It comes in glossy aluminum as shown here with its brilliant, bright, bling – also in stainless steel (a bit more expensive), and a dark carbon version. It comes in large sheets – a couple of different sizes and thicknesses.
I have also discovered here, while on the search for materials for this project, a dark iridescent porcelain tile with a bas relief pattern simulating this amazing tread. This material like other faux finishes has it's practical purposes – but like porcelain wood or porcelain stone – it is NOT the real deal. I have elected not to present this, for use on this project.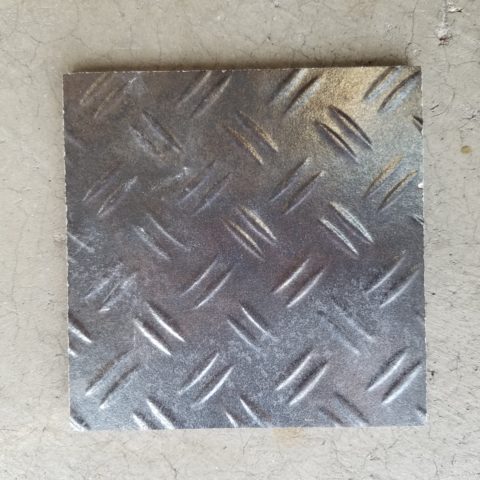 So stay tuned to the exciting insertion of this sheet metal in our new interior design. Just enough  – not too much – right where it will be effective – and make the best statement.
The takeaway is that the excitement of introducing different materials effectively – not gratuitously – but with a purpose – is part of the fun of design. The daily inspiration that comes from new projects and people, ideas and opportunities!!!
And in light of our holiday weekend – a perfect time to feature the shiny red truck that inspires and represents the outstanding individuals in the service and rescue fields – Happy Labor Day!