Tangerine Dreams Exterior
Tangerine Dreams – this xeric project in the Tucson high desert is a refreshing oasis in the arid environs. Painting the chairs and table legs white and leaving the table top natural wood makes a pleasing combination – table dressings collected to further the tangerine color scheme. Whimsical balls float in the pool beyond while under-cover dining table provides respite from the heat.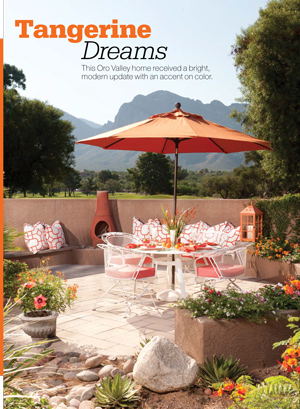 Tuscon Lifestyle Magazine
July 2014: Tangerine Dreams project: Oro Valley home receives a bright, modern update with an accent on color.