Tangerine Dreams
Still on the hunt for the perfect painting for over the fireplace, this room has made the leap from a dated 80's interior to a stylish stone statement for the future. The angular framed mass that originally housed the TV was eliminated in favor of a curvilinear banco which sweeps along the wall and continues in front of the fireplace as the hearth. White stacked stone was used to face the entire area from the new limestone slab surface of the banco to the ceiling. The new, slim TV is now mounted on the stone wall. The original sheetrock mantle and surround of dark granite were removed in favor of the continuation of the white stacked stone. The bar surface is a new granite slab, the cabinets were painted, the sink removed and the upper cabinets had glass added with lights to provide a display and soft illumination at night. A mirror is due for the space between the upper and lower cabinets. The coral paint in the new lighted niches in the stone wall add "pop" and the color is repeated on another wall across the room.
The color scheme flowed to the exterior as we selected specific plantings, garden features and furnishings to furthers the Tangerine Dream theme.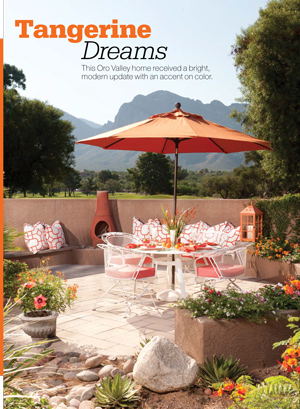 Tuscon Lifestyle Magazine
July 2014: Tangerine Dreams project: Oro Valley home receives a bright, modern update with an accent on color.