Last week I had a meeting with clients who have purchased a swanky little tract home, in a trendy new subdivision, which comes with a package of choices – a buffet where a smorgasbord of features and finishes are offered, but no custom deviation is allowed. They came to me stating that they intended to take possession, with the package that they selected with the project's coordinator, and then promptly replace carpet and change paint colors prior to their move-in a month later. Wow.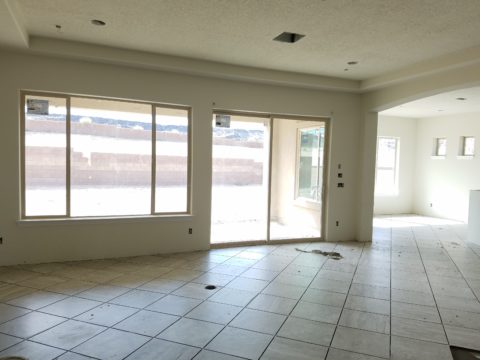 So in our initial walk-thru of the construction site, they explained that they had pre-wired for motorized blinds in most of the windows. They had already met with a window dressing consultant and this was the status of that decision process. I was curious as to how they had arrived at this decision, so offered an example of a previous consultation that I had had – which I have referenced in prior blogs.
Years ago a woman called and wanted a consult to discuss draperies. When I arrived at her home, I encountered large east-facing sliding doors flanked by equally large towering side-lights.  The primary living space, where this wall of glass was located, had soiled, tan, wall-to-wall carpet, furniture poorly placed in disarray and toys scattered everywhere. All surfaces were over-flowing. I knew at once that no matter how much we threw at those window, it was not going to improve the appearance of this environment.
So I asked her the three basic questions regarding window treatments. ONE, do you need privacy? TWO, do you need light control? THREE are you after a decorative element? She responded to each. "There is nobody behind me – the lots drop down off the bluffs without privacy issues, the overhang of the patio provides plenty of light protection and I was hoping for draperies to improve the decor." At which point, I objectively assessed the situation. I told her that spending a significant amount of money on draperies and without need for other window treatments, noting her soiled carpet and fragmented space, I would suggest replacing the carpet with hard-surfaced flooring and began to work with her to rearrange her furniture and discuss bins for the scattered toys.  She enthusiastically told me that her brother-in-law was a tile installer and so I suggested that we find a tile and let him replace all the carpeting in this common area from front door through kitchen, down the stairs and throughout the great room. I assisted her in the selection of the tile and also recommended a fresh paint color. The next time I visited, I saw the dramatic transformation. With the new clean flooring, rearranged furniture and toys stashed in bins, she had transformed her space into a clean, fresh and easier to maintain interior. I could have sold her thousands of dollars of draperies – but it would have blown her budget and it would not have been the right thing to do. Instead they had less than $500.00 consultation to get them on course.
The right thing to do is what clients count on when they engage services for advice.  There is never one solution, but there are responsible versus irresponsible options. Window treatments are one of many considerations when planning an interior design.
Regarding  these new clients, after our discussions, they may end up opting not to dress all the windows. They might use the money elsewhere like painting the walls, taking their floor tile out onto the patio and entry slab – many things that they are considering as they plan this new interior.
We have recently been inching our way through another project to re-do a (excuse me for saying) dreary living room. It too is the primary living space for this home.  I say "inching" as we began with a concept based upon rearranging the furniture. Then we began discussing the possible color schemes and styles that might transform the room and transition well from their periphery spaces.  Wonderful, existing, family antique, furniture and rugs set the stage. We had the good fortune of things falling fairly quickly into place. I'll save the design process of this project for another time, but as it relates to this subject, we are regarding window treatments as one of the final layers of design detail. Here we had existing wide blade blinds that were still perfectly functional. They could be drawn-up to the top, used down either with blades closed to provide compete privacy – or opened to varying degrees offering filtered light and a modicum of privacy. We felt that as things progressed and having removed the original valances, that the windows could stand being enhanced.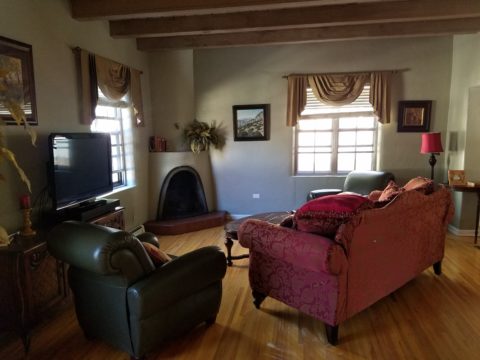 The choices are many. We considered full-length drapery panels, short curtains, top treatments such as upholstered cornices or fabric valances – pleated, swagged or shirred and more… We weighed all options and decided upon the structure, tailoring and fabric coordination that upholstered cornice boards would contribute to the scheme.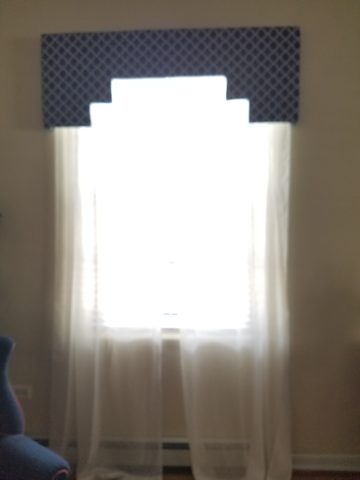 These boxed, stepped cornices add so much to the soon-to-be finished project. Yet right when we think that this is the crowning detail, sheers are considered to soften the blinds and further filter the light softly streaming through the windows. Here we are in the process of experimenting with the sheers which still need to be hemmed and finished.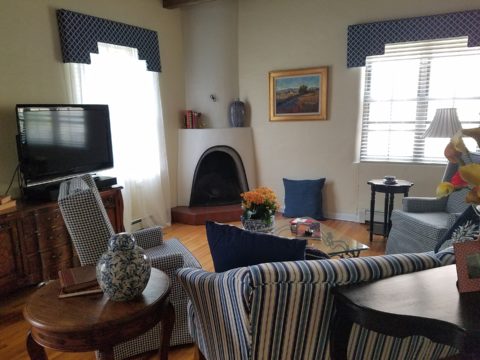 In this case, my wonderfully talented client will be doing some of her own sewing on these finishing touches –  and perhaps some pillows – a bonus to her and their project! Stay tuned for the amazing finished product…complete with clever re-claimed "finds," dramatic re-upholstery, fireplace modifications, custom audio-visual cabinet and finishing accessories!