We LOVE custom challenges. When you have the right team, with the right talent – anything is possible. Part is luck the other is cultivation, but in my case – most was luck!!! They/we didn't need cultivation – it was a perfect fit from the start! Thank you!
Your team is your strength – whatever your profession. Think about it. From aerobatics to orchestra conductor – those who count on others to make them look good – with or despite their efforts – the end result is what counts. – right?
I, and most people, LOVE before and after photos – it's fun, it's instantly comparative, it satisfies our desire to achieve that which we can't have…except in a facsimile thereof.  It's proof and validation that we can have it – a version of "it."
We often miss opportunities of taking the before shot – rearranging a room is a prime example – because it happens on the spur of the moment and happens within minutes – the results are startling and instantly proving of "better" design.
We often replace existing with new.  New something…whether re-upholstery or new cabinets, no job too small – the results change lives. Of course, entire remodels are the bomb!
Respect any existing thing. Evaluate it for its merits. Consider its history and construction. Fragile or invincible – the history is of value. AND its replacement cost.
Then go about making it a better versions of its original self. Paint it, refinish it, cut it, re-cover it…NOTE – anything with genuine historic value must NOT be changed – must not be modified in any way in order to preserve its original condition and relative value. Here, we are talking about tired pieces that do not have any other historic value. Just time to refresh. Know the difference.
Photos to follow are from one project that is currently underway. Re-upholstery – who said you have to do it all with the same fabric? From blah to brilliant, the before versus after is awesome!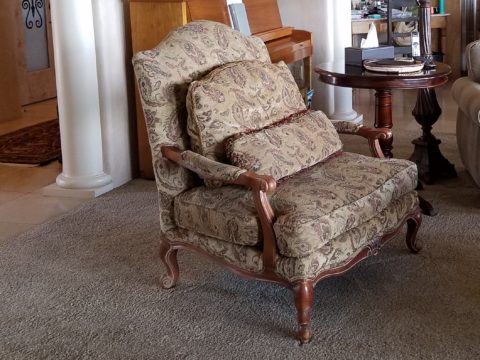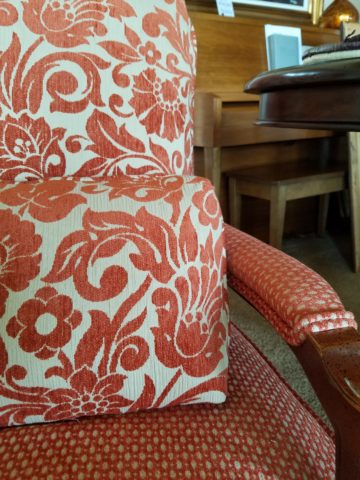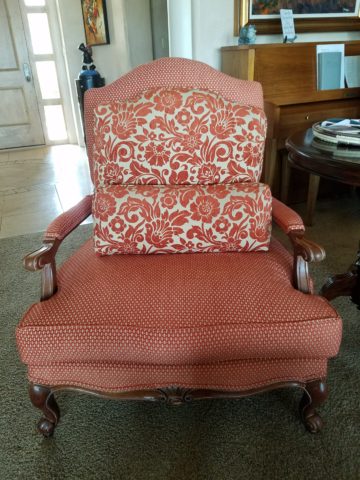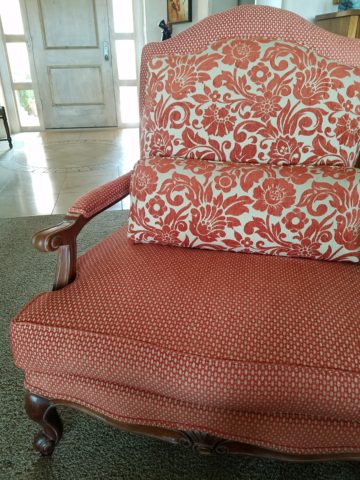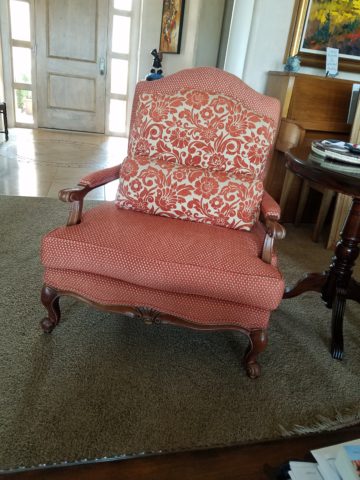 Other times it is about replacing for a better piece. Better for changing aesthetics, better or different function. Here we had existing dressers that served their purpose for several years. They did not go with the other furniture that the owners had collected over the years and the style of the home in a broader sense. It was time to replace them, and finding the right pieces was a challenge. Size and style were the two specific features and therefore a custom design/build was in order. The plain espresso stained veneer pieces were replaced with hand-crafted pieces using hardwood solids and fine veneers of character-filled knotty alder, custom trim details and hand rubbed glazing over many layers of stain and finish resulted in two exquisite pieces to complement their interior. Handsome, heavy solid pulls added to the rich, warm and  substantial feel of these exceptional pieces. Note – this was built by one person in a small one-room shop. It is not a multi-employee assembly-line woodworking company. Thank you Enrique, for once again making my dreams come true!!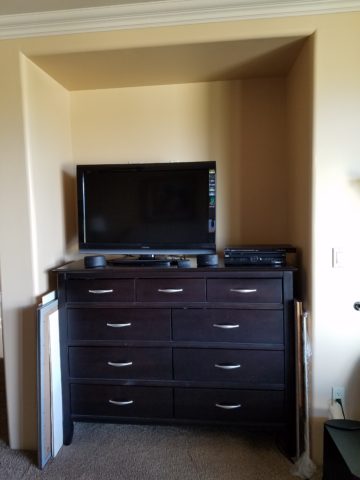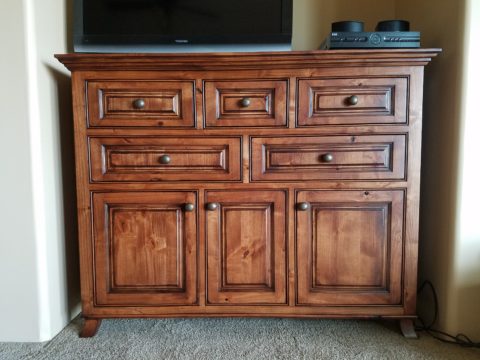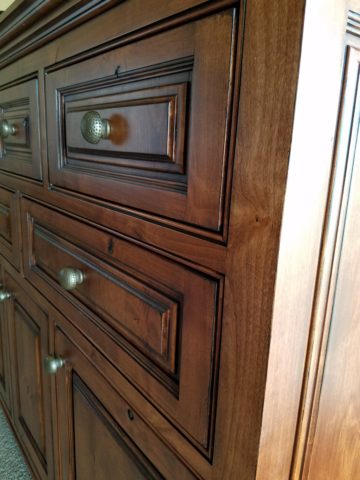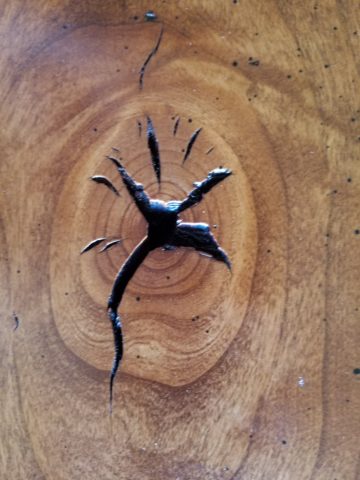 This was delivery day – media and wire management are still underway – but this was the instant removal of one and replacement with  the new! I love the "happy dancer knot!" Like other designs in nature, granite geology, wood…so much beauty in the hidden details – wonderful! Take notice!
As designers, we solve problems, make improvements and assist with the ideas and the means by which to accomplish the mission. Custom fabrication is a unique way to create your signature design. The permutations are endless and an effective designer will make recommendations exclusively for you.