At the outset of a design project, certain first steps are common. It is after those initial steps that things can take two very different directions. First you have the desire or need to make some changes/improvements. You decide with whom you want to work to design and implement.
If you take the time to plan every aspect of a project, make all the selections, get all the details down on paper—well notated and drawn so as to convey every intent, you may begin and proceed without hesitation. The project can be scheduled and run accordingly. Easy peasy—with that prior proper planning.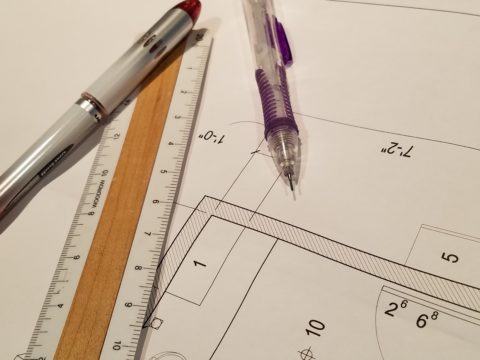 Whoa—is that real life? Well it works for many. It works for those too busy to delve into the many possibilities, to be open to the evolution of the process, to enjoy the adventure of creativity. I'm talking about the projects not requiring permits – fabrics, finishes and furniture. New cabinets in a kitchen, switch out the counter-tops, get new updated back-splash…rearrange, replace, recover furniture…paint walls, hang art, mostly cosmetic enhancements in this case.  Clearly some just want it done—and have no interest in the creative process.  However, do you ever have a second thought? Does one decision affect the next? As you experience the design and implementation process, might you change you mind…have another idea? It happens all the time. It is more realistic, fun and feels like a true artistic endeavor.
But is your intent to create an art piece? Is it to experience an artistic endeavor? Or do you just want some new pieces, finishes, an update? These are two very different situations that require different processes.
True design is centered around the unique requirements and desires of the client. It is responsive and reactive. It is also proactive and filled with anticipation. The design process is one of balance and equation. If…then…
This process is intuitive and educated. It is based upon expectation and perception. Like tipping back in a chair…back…back…until you might fall and then—you catch yourself and all is right with the world—exciting but measured.
Why do you hire an interior designer? With all the information available at your fingertips, why do you need to pay someone to do what you like? If you know what you like, you have the time and you have gathered a folder of ideas, why do you need a designer? Might it be to sort through options? Or to decide between choices of fabrics, groupings, arrangement, scale, style? Merely to hold your hand while you make those decisions? Do you have 5 photos of sofas? Do you have a million pictures of materials? Have you picked up or ordered clippings of fabrics? How do you decide among these many options? How do you know you are making the right/best decision given your options? What is timeless? What is trendy? What will last? What is practical? Which direction should it go? What goes with what? Ha—its funny if you start looking at your options and asking those questions…and there are a gazillion more during the process.
The idea behind hiring the right professional, is that they will help make the best decisions that will narrow your search and selections resulting in a distilled version of the gazillion ideas your have pinned, clipped, saved, collected and visualized. Not to mention they might and should bring other new ideas to the mix. The end result of responsible design consultation should provide a design you would not have had, that you like better than your efforts alone and eliminate costly mistakes saving both time and money.
The most difficult part is to recognize that not everyone receives information and processes it the same. One person's mental image of a design concept might not be the same as another's. Conveying ideas is an abstraction that can only be somewhat helped with illustrations and models. From quick sketches to well rendered illustrations, dimensional drawings to actual models, nothing will ever exactly convey what will be the finished product.
A sketch like this TV cabinet suggests a possible solution to an a/v issue…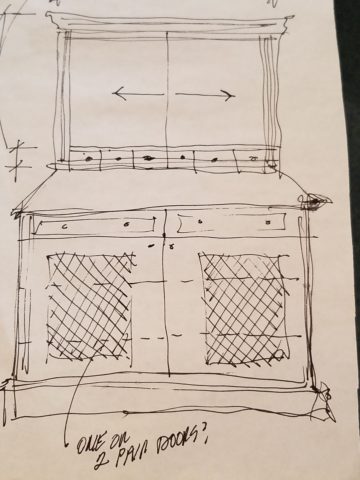 Finished similarly to this piece of finely crafted knotty alder.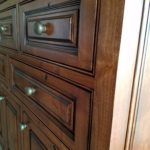 And this tired, yet fabulous contemporary sofa – can you visualize it in an elegant, classic navy stripe with new wooden feet? Watch for this transformation in a coming blog!!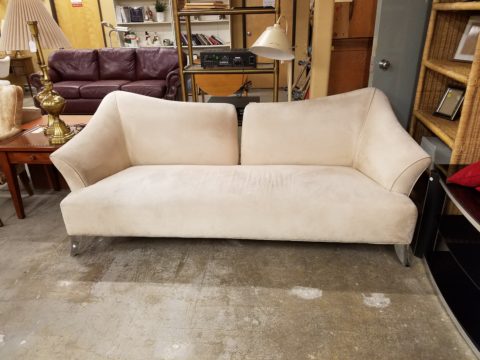 It's all conceptual. It's not real—until its real. How's that for a profound observation? Both designers and clients need to be very clear on this prior to committing to a design process. Visualization can be tricky. It effects expectations.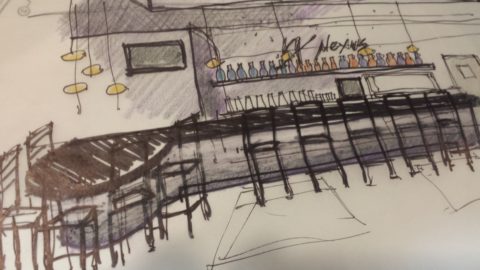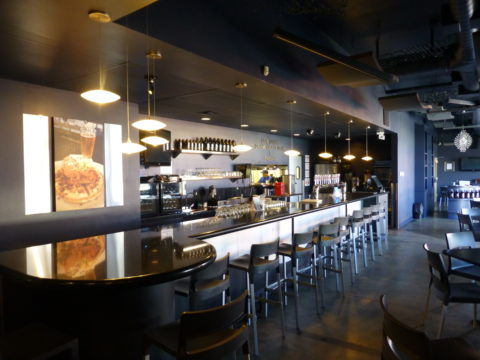 Communication is key. Choosing good, descriptive words…tangible samples of materials… illustrations…models…not all projects warrant the latter examples. The cost of the communication tools must be weighed against the value to the project.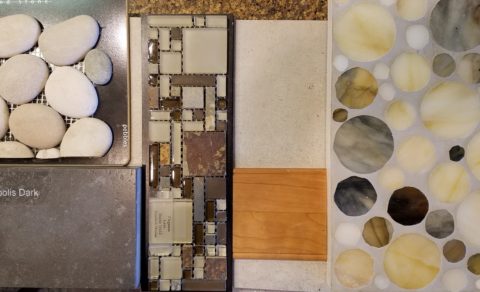 So the creative process is fun and adventurous. The permutations are endless. So many choices, so little time. But if you make one decision, you narrow your steps. With each decision you build toward the finished product. And the beauty of giving yourself permission to "create" means that you can change your mind at any time, massaging the process as you proceed.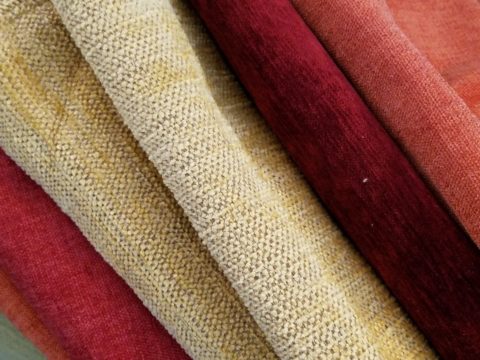 It takes patience and resilience. Art is creativity—opening the mind to possibilities.
Creativity is defined as the tendency to generate or recognize ideas, alternatives, or possibilities that may be useful in solving problems, communicating with others, and entertaining ourselves and others. (page 396) What is creativity? – California State University, Northridge https://www.csun.edu/~vcpsy00h/creativity/define.htm
The entertainment factor (above) is an interesting point—because it relates to the previously mentioned—fun! This creative process can be and should be FUN!!!
Being prepared to make alterations, fine-tune, add details and work toward that place that determines completion. Like a painter in front of a canvas…knowing when to stop. It can be over-worked. It can be compromised by going too far beyond that which is good. This does not merely refer to clutter or busy design…each is applicable and depending upon the definition and eye of the beholder (again perception) it can all constitute good design. One man's clutter is another man's complex design. But who makes those decisions? The critics for one—if the work is out there to be critiqued by the professionals, but the bottom line is the end user. If it solves the issues, serves the purpose, satisfies the desires—that is success. YOU (the end user) determine the success or failure of your design project.
But that determination of success or failure is a shared responsibility. It is a team effort of communication, contribution and patience with the process. The creative process has few limitations. Budget for one is important and physical restrictions—but other than those—designing is as though a living organism's path. Designing is the abstract – to tangible way of navigating the fluidity, growth and development of the creative process.
So be free to explore and enjoy the possibilities. They are endless. Seeing the design materialize with the additions, and deletions, changes and modifications is part of the exhilaration of it all. It wants to be exciting and feed that thrill of anticipation and fulfillment of desire.
Create—and enjoy—it is good for your life.